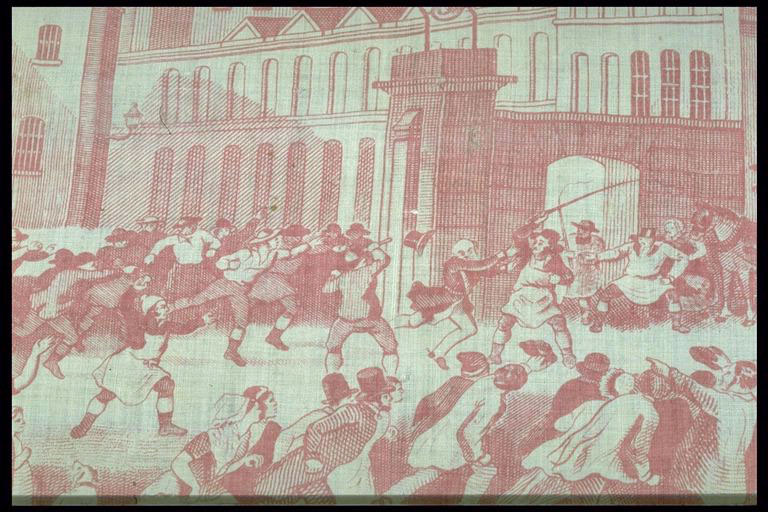 I'm doing a little research for a book chapter on the popularity of Garibaldi during a visit he made to England in 1864.  Public opinion in Britain was much more focused on 'foreign affairs' than it is today.  Many people saw Britain as having a special role in showing the world the benefits of liberalism and a strong state constitution.  People were also confident that Britain could use it's might to combat injustice around the world.
Whilst reading I came across this fascinating artefact.  It's a handkerchief commemorating the beating of an Austrian general during his visit to England in 1850.  General Haynau, it was alleged at the time, had ordered the wives of Hungarian rebels to be flogged in 1849 after a failed revolt against Austrian rule.
In 1850 Haynau was visiting Britain and expressed an interest in touring the Barclay and Perkins brewery in Southwark.  One of the draymen recognised Haynau, from his famous moustaches, and raised a cry of 'pitch him into the Thames!' in revenge for his mistreatment of the Hungarian rebels and their wives.  Haynau was badly beaten, but managed to escape by hiding in a pub and then climbing out of the window under the protection of the police.   An international incident was only averted when Palmerston reluctantly apologised for Haynau's rough treatment.
What's interesting is that some enterprising person with an eye for profit decided to commemorate the affair by printing these handkerchiefs.  Whether they sold well I don't know, but there was at least an expectation that they would – which shows what a strong interest the public had in Britain's role in Europe and the world in the mid 1800s.